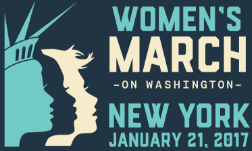 Greetings,
Our Senior Warden, Beth Duthie, has registered with the team One Nasty Family for the NYC Women's March on Saturday 1/21. Start location and time is TBD.
Please feel welcome to join the march and support women's rights.
If others want to join, but would like to register their own team or sign up as an individual they may do so at thehumanfirstsociety.org  or visit  womensmarchnyc.com for more info.