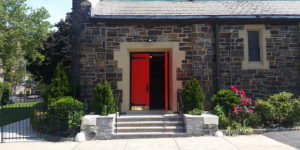 Our Misson
Christ Church Bay Ridge is a welcoming, supportive, and inclusive Episcopal congregation that provides a place where all can be nurtured and grow spiritually in Christ. Our mission to the community is rooted in service, expressed in hospitality, and manifested in diversity.
Our Story
Today's parish of Christ Church Bay Ridge was formed in 2014 when the former Christ Church Bay Ridge parish merged with the former parish of St. John's Fort Hamilton. 
In 2017, the St. John's columbarium has been relocated to the Christ Church sanctuary. Several beautiful stained glass windows from St. John's have been incorporated into the design of this updated space and the number of niches expanded. Dedication of the columbarium is scheduled for September 2017.